BQool Amazon AI Repricer Early Reveal & Release Date
Have you heard about AI repricing? BQool's Amazon AI Repricer is coming in hot! We have fully revealed our AI repricer in 2/3 Live Stream to showcase how you can quickly set up and get the most out of your algorithmic repricing strategy. If you missed out, don't worry! Below, you can check the live stream replay out and the transcript.
Samuel: And we're back. So Jimmy, just do a recap. What are some of those AI-powered repricing benefits that we shared with the audience last time for the people who may not have seen it to refresh their memory?
Jimmy: Definitely. So the first point is our AI can help you accelerate the Buy Box win rate and boost the percentage of Buy Box. Second, earn more profits with self-learning Algorithms to Reprice Against Competitors Based on Your Set Objectives. Third, the setup is much simpler and easier.
Samuel: That sounds a really huge improvement. And in today's discussion, we'll be sharing with you the reason why we are going to release the AI Repricer now. Very shortly, and we'll also show you how to pick an AI Repricer, and some of the other things to watch out for. We have a checklist of all the different types you need to watch out for when you pick up an AI rerpcier. And we'll also show you which AI Repricer strategy you should use based on different situations. We will give you different strategies for AI repricing rules, and then we will tell you how to quickly set up. We'll also be announcing our exclusive giveaway to a lucky winner during the webinar, so make sure to join our Facebook group and comment for your chance to win our exclusive giveaway. We'll also be taking Q&A, so be free to write up your questions and insert them in the live chat, so we can answer in the Q&A session later.
Samuel: Jimmy, before we continue, can you quickly give us some background about BQool? This is to help our audience who aren't familiar with who BQool is?
Jimmy: Definitely. BQool has been in the Amazon Repricing business for more than 10 years, pioneers in the industry. And we have a large number of AI software engineers, one of the highest ratios in the industry. BQool is created by Amazon sellers so we know Amazon sellers' pain points. Also, based on the historical data we collect, that's why we are able to create this algorithmic repricing to help Amazon sellers to sell better. BQool is part of the Amazon Marketplace Development Council, which is a very selected group, and all the data usage we have must and always comply with Amazon guidelines and policies. Last but not least, we have a proven track record with a 4.8 rating on Trustpilot with 100s of reviews.
Samuel: As Jimmy shared, we've been in the Repricing business for a while, and that is why we know your pain points. As an Amazon seller, it's simply not possible to keep adjusting your rules for every single ASIN when you are trying to scale your business to the next level and when you have 100s of listings. This might work when you have a few SKUs. Now, it can take up to 3-4 hours to continue fine-tuning. Think of what you can do with that time again. You can invest that time back into your business for sourcing or online and retail arbitrage or spend time with your loved ones.
A shared Amazon seller value is that "The only thing that is constant is change itself." We live in a changing world. What worked yesterday might not work today. What works today may not work tomorrow. That's why you need to keep learning and upgrading your tools. In the book "The 7 Habits of Highly Effective People", one of the suggestions is that you need to sharpen your saw, so that's why you need to sharpen your tools and you have to improve your tools, and you have the right tool to help you.
Samuel: What you're saying is that in this unique playing field, like no two ASINs are the same, Just like no two snowflakes are exactly the same. There might be different competitors. What types of competitors could you have?
Jimmy: They can be FBA, FBM, Prime, Non-Prime, SFP (Seller Fulfilled Prime), also they can be Amazon direct, featured, or non-featured sellers.
Samuel: So they may be similar but they're not the same. That is why we came up with an AI repricer so you can outperform and compete more effectively against your competitors for every single ASIN. You can learn their patterns and you can predict their move. When you're competing with a rule-based repricer they follow the same pattern. For the history buffs out there, in World War II, the Allies cracked the enemies Enigma code. The Enigma machine was a device used for military communication by the enemies. The Allies were able to predict their next move once they cracked the code they soon won the war. Today, we arm you with AI superpowers to crack your competitor's rule-based repricing.
Samuel: So how competitive is the Amazon landscape?
Jimmy: The E-commerce landscape is now more competitive than ever. There are 2.5M sellers and it's growing. Today more than ever, people need to shop online. Not long ago Walmart, Target and Amazon started price matching. They want the lowest prices to compete for online shoppers. Amazon will make a profit as long as your product sells on their platform regardless of the final price.
While there are more buyers there are also more sellers on Amazon due to the pandemic. Many sellers just like you have a job and are selling products on Amazon for that extra income. Others are now starting a new career selling online.
Samuel: Yes, it's extremely competitive. You can't compete on only rule-based repricer anymore. An AI repricer will help you win the buy box more often than someone who is using a rule-based repricer because once it's turned on, it learns and predicts what your competitors are going to do. The smarter your repricing tool is, the more repricing strategies it can devise for you.
Jimmy: For each of your listed products, AI repricer will ensure that every competitors' price listed for that specific product has been processed and then reprice based on a range of factors that will impact the chance of winning the buy box. It is much more powerful than a rule-based repricer where you set rules based on different scenarios that can happen.
Samuel: It collects the past data of all the competitors for that ASIN. In addition, an AI repricer can determine if market conditions call for a more aggressive repricing approach to optimize a seller's prices for more sales and minimize the loss of profit margin. 
Samuel: What's the goal for Amazon sellers?
Jimmy: The goal for Amazon sellers is to sell more items and earn higher net profit. Higher sales doesn't equal to more net profits. Higher margins per unit doesn't equal to higher total net profit. That is why it's important to be strategic and have the capability to shift strategies based on your set objectives.
Samuel: So we established our goal is to get a larger pie. We can grow the sales or grow the margins. Let's take a look at some of the main differences between an AI Repricer and Rule-based Repricer.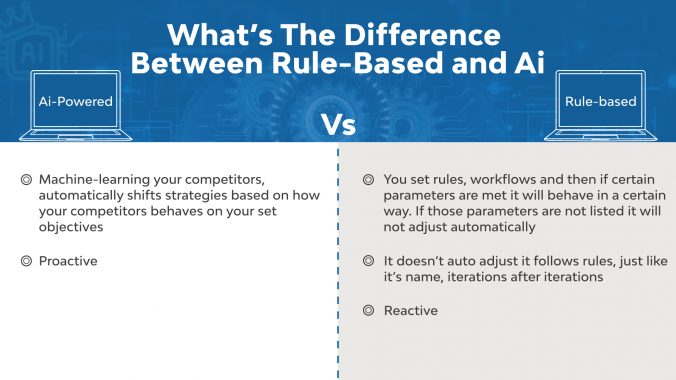 Samuel: So to summarize, the main difference between a rule-based repricer and an Ai-powered repricer is that an Ai-powered repricer has machine learning and adapts its strategy depending on the competitor for a specific ASIN. There are many so-called "algorithmic repricers" on the market and as one viewer commented, this really has become a marketing buzzword. How can we identify a proper AI repricer that delivers authentic AI repricing for sellers? 
Jimmy:
There are several aspects to consider when choosing a true AI repricer that can win the buy box. Here is a checklist that we will go over with you to help you find the right AI repricer.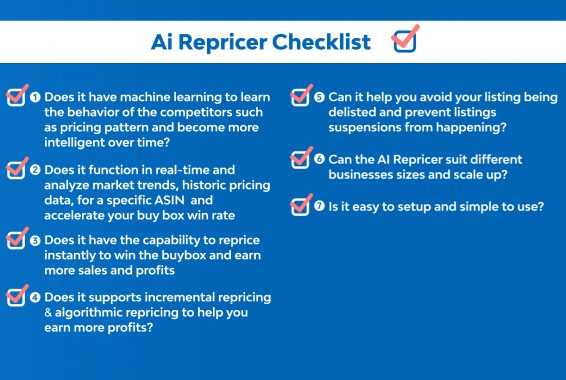 Does it have machine learning to learn the behavior of the competitors such as pricing patterns and become more intelligent over time?
Jimmy: BQool's AI Repricer with machine learning takes numerous factors such as historical sales price feedback rating and the fulfillment types and targets the optimized buy box price in real time. The AI Repricer becomes smarter as it collects more data and adapts its strategy by learning competitors' repricing rules.
Does it function in real-time and analyze market trends, historical pricing data, for a specific ASIN, and accelerate your buy box win rate?
Jimmy: BQool's Repricer analyzes real-time market trends and historical pricing data for every Amazon ASIN and it learns on the competitors' patterns after the user listing is added in the BQool's database.
Does it have the capability to reprice instantly to win the buy box and earn more sales and profits?
Jimmy: BQool software can reprice instantly. It reprices at 15 mins for the standard plan and instant reprices on the US$100, but if you want better performance you can get the 100$ plan. *actual reprice time will depend on Amazon report (usually 2-5 minutes)
Reprice faster and more optimally to win the buy box and earn you more sales.
Does it support incremental repricing & algorithmic repricing to help you earn more profits?
Jimmy: BQool's AI Repricer supports incremental repricing and algorithmic repricing, and it maintains buy box position and raises buy box price to maximize sales volume and increase profit margin.
Can it help you avoid your listing being delisted and prevent listing suspensions from happening?
Jimmy: AI Repricer can reprice optimally to avoid your listing being delisted and prevent buy box suspensions from happening.
It takes into account historic high prices, you can track the maximum price to safely set your minimum and maximum prices.
Can the AI Repricer suit different business sizes and scale-up?
Samuel: BQool AI Reprcier is affordable, you pay as you scale up. We want to make AI Repricing affordable, will provide to new sellers and also to large 7-8 figure sellers. We have a risk-free 14-day trial that includes AI, once you know it helps you can invest, there is no risk.
Is it easy to set up and simple to use?
Samuel: Yes BQool, the process can be set up very easily by yourself. Simple, don't need to be an expert. The 4-step process takes less than 5 mins to set up.
Jimmy: Aggregating billions of data points in real-time, BQool's latest AI repricer with the machine learning model is a breakthrough that will shake the Amazon seller community. We will like you to be part of the AI revolution to outplay your competition in a dynamic Amazon market. BQool's AI-Powered Repricer has been rigorously tested and is based on proven results. With 3 simple-to-use strategies, there is no need for an assortment of rules and confusing strategies.
Samuel: Let's discuss several use cases for each scenario. I am going to use several categories as a reference for education purposes.
Scenario 1: Maximizes Sales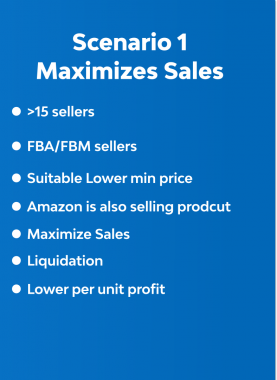 Samuel: Our first Ai-Powered Repricer to maximize Sales aggressively goes for the buy-box. In return, you give up profits in return for sales velocity speed for this strategy. This is suitable if there are over 15 sellers for this and there is a combination of FBA/FBM sellers. There is also a lower min price and it's ultra-competitive.
You can use this strategy when you want to dump and liquidate stock. You can also do this if the buy box price is very low and Amazon is also selling this product. Your objective is to get rid of your stock. There can be some stocking fees coming. Remember to set your minimum above your costs. The Ai-Repricer will try to maximize your sales and when it's possible raise the price back.
Jimmy, can you share what kind of products these might be? When would you like to use this strategy? Some categories you can consider are electronics peripherals, cable cords, even very popular products like blue light protection glasses. Another category would be pet supplies. Usually, this is for lower-priced competitive products.
Jimmy: For the first rule, you maximize sales, but right after you get a buy box that will determine if there is room for me to make more profits, the room for me to increase the buy box price.
Samuel: We recommend you use this strategy in most situations.
Scenario 2: Raise Buy Box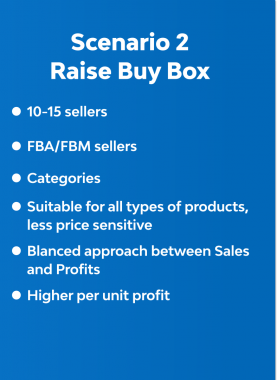 Samuel: The second scenario is a more balanced approach where you are less aggressive, and it will share the buy box in favor of profits. This is ideal for quick sales with the possibility of occasionally selling higher than the buy box and driving up your profits. This is suitable if you're more set on your profits and ROI than immediate sales. You can also use this strategy for some Amazon listings and in this scenario, it will match their price instead of undercutting. This strategy will also attempt to raise the price incrementally when possible and match the buy box price. This is suitable when there are 10-15 sellers.
Jimmy: That's actually a key so if you see them listing the market is overly saturated, people tend to start repricing more. They will want to undercut each other and go down to the Min as soon as possible to get the buy box. But if you see less than 10-15 sellers, they realize there's a situation where we're all here to make money. Why are you driving the price down? You tend to see people's prices match with each other and try to be in the Buy Box rotation. Incrementally, they all reprice upward. Cause you're not the only one using a repricer. But if you source well. You do well on the product research, we tend to see people be on a listing with 10 -15 sellers. They try to price upwards. They would try to price match each other.
Samuel: So you might also have a medium amount of inventory as well for this strategy and then moving on to the third strategy.
Scenario 3: Maximize Profit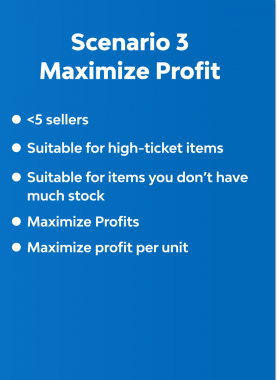 Samuel: Moving on, the third strategy is the maximize profit strategy. This is suitable for products that you have few stocks left and there is not a lot of competition. Usually, this applies to the scenario where there are less than 5 sellers. Usually, this is also suitable for high-ticket items with constant prices. The main goal is to maximize profits and profit per unit. This is useful for some large electronics where the sellers want to maximize their profits as well and the price has been constant.
Jimmy: High-value items or products that you do not wish to drag down the market price.
Samuel: The AI will incrementally lower the price from your max price to the buy box. Then raise the buy box aggressively when you capture the buy box.
Samuel: Now we are going to show you how easy it is to set up AI rules. I am on the repricing rule page inside of Repricing Central. I just need to select which three rules I wish to use. In our example, we will pick maximize sales. What I like to do, sometimes I require liquidation so I input that in the rule name so I know what the rule is for. I don't need to create too many rules and I can just set one rule for multiple listings. Then go to next.
Samuel: Now we can define some of the conditions and parameters of how we want our AI repricing rule to be.
Jimmy: This is the section we want you to emphasize how the AI reacts to different competing scenarios. In most situations, AI repricer will take historical buy box prices, cost, your fulfillment price, and other metrics into consideration.
Samuel: Then the third step, so we are on step number 3. It is the scheduling. We have the AI scheduling that allows you to set at a certain time that you want the AI repricer to run. There is a certain time that's more competitive which you might want to have the AI repricing turned on.
Jimmy: There are also times when you want to reshuffle the market. If you are repricing at your min price and want to price up to the max price, AI repricer can start your price from the max for more profit.
Samuel: This is the next step and it is optional. The last step lets you review your rule and you can save and finish. You can then apply this rule to different listings. You can apply it by bulk action.
Jimmy: Yeah, you can group listings with the same attribute together and use bulk action to apply one AI rule to a group of listings. Of course, about how to do this, you can contact us and our support is ready to guide you through every step.
Samuel: You got to make use of our live chat and our customer support. And it's really simple. We have just shown you the 4-step AI rule setup and it took less than 5 minutes, and we were explaining it to you. And when you do it yourself, it might take you just a few minutes to finish setting up your rule. Today, we talked about why you should pick an AI repricer, we showed you different criteria and how to pick an AI repricer, and why we are launching it out for you. We also showed you some key AI repricing rules and strategies to set up. Finally, we showed you how to quickly set up.
Samuel: Right now, we told people we will do an exclusive giveaway, and we are doing the exclusive giveaway right now. If you haven't joined our Facebook group. Make sure to join our Facebook group "Amazon FBA Top Sellers: Private Label, Online and Retail Arbitrage" (https://www.facebook.com/groups/BQoolUserSupport). I am going to do the lucky draw right now, and let's spin the wheel and we will see.
Jimmy: Spin the wheel!
Samuel: So we have put all the people who have commented here and now we are going to get a winner, Jimmy you ready?
Jimmy: Yeah.
Samuel: Last week, we talked about it every week and we are going into the exclusive giveaway right now. So this is worth a $600 Repricing plan. Jimmy would you like to do the honor.
Jimmy: Let's go.
Samuel: We have a winner! Congratulations Rosa. You are the winner. Now we are going to our Q&A session. We are going to our live chat to see all the different questions that people have asked. If you have any questions, be free to type them into the chat right now, and then we will be going through the questions. So let's take a look.
Samuel: I have the questions opened up, the first question is "whether or not, when you compete using AI repricer, does it stop lowering prices once you get into the buy box?
Jimmy: It depends on the competition. If you are an FBM seller and you are up against prime sellers, the repricer may not increase your buy box price to avoid the possibility of losing the buy box.
Samuel: Ok, let me look at the second question here. "Does it allow you to compete, not just the lowest price, but also the second to lowest price, the third to lowest price, and the fourth to lowest price?
Jimmy: People don't want to target very low-volume sellers, and they don't want to target non-featured merchants. Because non-featured and backed-ordered sellers tend to price very low. A lot of our users don't target them. So AI will not just target the lowest price.
Samuel: So you are saying that some sellers may not target people with very low feedback or new sellers?
Jimmy: AI will target buy box eligible sellers and it will keep seller's profit in mind. Race to the bottom is not the goal for the AI, the goal for the AI is for the profit and to earn as much revenue as possible. So for AI to target the lowest price competitor is not ideal.
Samuel: Ok, there is another question, "when does the AI repricer go live"? The answer is, It will be the first week of March. Stay tuned and join our Facebook group. Make sure that you are alert and you know when it's going to go live.
Samuel: Here is another question, this is from Mr. Herbert, "Am I able to push the buy box higher if there is a seller with the low price on the buy box?"
Jimmy: Definitely, if the seller has already won the buy box, the first thing AI will do is assess the selling metrics of the competing seller to determine if the repricer should price higher to get the buy box or undercut it to get the buy box and then raise the buy box price if the situation allowed.
Samuel: Another question, "Should I use the AI for a specific category? Does the AI cover multiple categories?"
Jimmy: AI repricer is designed for multiple categories, it is not designed just for a specific category. But I would say this, for each category, you always have a niche that is not overly saturated. This is why you need to spend more time doing product research so you can discover potential products that have few competitors. The next thing you need to do is sourcing. Sourcing is a way for you to lower your product cost. With the product cost being lowered, you are able to give a lower min price to your product for AI repricer to compete effectively.
Samuel: The AI repricer allows you to spend more time on doing product research and sourcing because it frees up your time from setting up complicated repricing rules.
Samuel: Another question we have here, "does it allow you to set different price scenarios when competing with prices greater than, equal to, less than those fulfilled by merchant listings, fulfilled by Amazon listings, and non-featured merchant listings?"
Jimmy: For the AI, it would automatically take all those into consideration for you. All you need to do is to determine if you should go for maximizing sales, maximize profit or go for another approach like price match and then incrementally reprice your buy box upward. If Amazon is your competition, there is no way to take the buy box away from Amazon. So the game here is not to win, it is to tag along, once you tag along, Amazon is sold out then you will be the next one in line for the buy box.
Samuel: Next question, "would AI remain free on my subscription?" You will find out soon enough, but we do want to make AI affordable for everyone. So for certain plans, we will definitely include AI.
Samuel: Another question we have is "would this work well with used books" AI can work on books.
Samuel: "Does it support Amazon JP" Yes it does. AI repricer supports multiple marketplaces. You will be able to reprice different places and sell your products in different markets as well.
Samuel: I went through all the questions and there is a question we haven't answered yet. The question says" does it allow me to exclude specific sellers by name?"
Jimmy: Yes.
Samuel: This question is not related to AI and we are wrapping it up. "Can we get a BQool shirt?" If you are our affiliate and you want to promote AI repricing for BQool, we will find a way to get you our awesome BQool shirts. We are just so happy you can join us today. We want to ask everyone to join our Facebook group "Amazon FBA Top Sellers: Private Label, Online and Retail Arbitrage" (https://www.facebook.com/groups/BQoolUserSupport)
Samuel: We read some comments that some people didn't win our repricing giveaway this time, but you will have another chance. We will be giving exclusive giveaways until our launch date. If you have questions about our service, you can reach out to us and our support agents. We have a live chat function and it's very convenient. We have been in this business for a long time and we want to help you. Thanks for joining and congratulations. You have invested time and we know you will grow your business and we feel very positive about 2021. We are turning around the corner and things will start looking good for you. Thanks for your time and we will see you next time.
Sign up for a 14–day free trial now, and you will be the first one to know when it's released.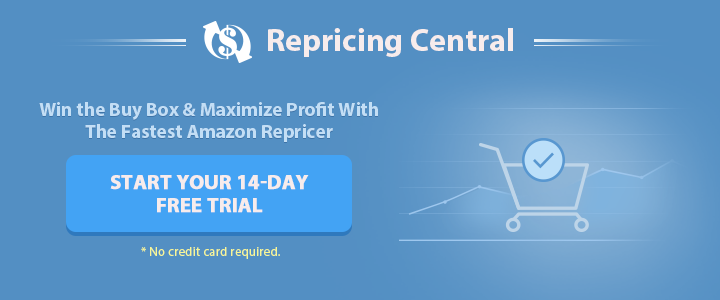 The post BQool Amazon AI Repricer Early Reveal & Release Date appeared first on BQool Blog.